Oanh's Art
Here I will establish my passion for the many forms of art that intrigue me and or that I am experimenting with.  I  am a believer that our passions in life is meant to be discovered, accepted, practiced and shared.   Therefore I shall showcase how I express my soul through drawings, paintings, poems & quotes, gardening, singing, dancing, photography – in front and behind the lens, mixology, cooking, make-up artistry, crafts and more.  Let's just say I have an insatiable appetite to create my subjective idea of beauty in many forms.  
"Fragile n' alone, in a more hostile environment then my own. Seeking refuge where most wish to flee. A breathe of fresh air, eyes wide open yet blind as a bat. I see from my soul, I feel with my heart and I speak through my art!!!" – 2010 Solo Soul

The piece above is my fifth painting and I call it " My Family Portrait ".  I need not say more.
---
The evolution of a single piece of white paper turned Gryphon head piece =)  Then add ten more pieces of white paper for the sweet claws I made to cap off my costume for a Alice in Wonderland party….oh yeaaa  create love, that's what your here to do.
9:32pm  December 25th, 2015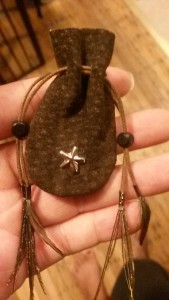 I opened sacred space and created my first medicine bag by hand where I made every single stitch with intentions of love, protection, transformation and oneness.  I ended up gifting this to the lovely water woman at my first peyote meeting.  The experience was magical and I understand why I was summoned to the circle, where the elders spoke their words to me.  I am deeply touched by every connection I made during that journey and walked away with new bonds.  Forever grateful.
9:16pm December 25th, 2016
Collaboration with Bart (videographer) and Sean Finlayson (guitar player) for my second music video.   So again I recorded this about a year ago on my IPhone and finally decided to share my second jam session with YOU =)  I love this song and hope it resonates with you.  I'll be the wind beneath your wings my love.  I know I know *wink
My friend Bart made this video but for something completely different.  I loved how organic everything came together that I decided to keep it as is and call it my first music video ever =)  I had recorded this song about two years ago on my IPhone during my first jam session with a friend, Meredith Coloma, so you will hear the excitement in my voice towards the end because it was a new experience for me.   I hope you get inspired to sing too =)
Some old school goodies…
More images of previous works of art will be uploaded after my safe return from Costa Rica.
©2010 Oanh Thi The Nguyen – Solo Soul